New Mom Essential Matching Robe and Swaddle Set with Headband
$49.99
Regular price
Unit price

/

per
Quantity selected exceeds current stock
Made from eco-friendly and breathable bamboo, this set is designed to bring comfort and confidence to your first days with your new baby. The soft, lightweight, and stretchy fabric will make you feel so relaxed and assured, while the unique floral prints add a stylish and cute touch. Our robe-swaddle set is perfect for creating photo memories and is machine washable with cold water and like colors. It's the perfect matching outfit for you and your baby that will help you be ready for your first visitors. Put it in your birth bag to be fully prepared for your hospital labor and delivery essentials.
This bamboo and spandex robes let moms and their new baby match in style and comfort. Adorned with charming florals, each robe comes with a matching swaddle and headband, perfect for capturing those sweet first photos.
The fabric is so soft and breathable so there is no need to worry about your baby or you getting overheated. There are 2 sizes, S/M and L/2X. A true maternity robe, there is a lot room for adjusting and the belt is sewn on. 
Please note that headbands for newborns are not to be worn for long periods nor in the crib. Please see this article for more info on precautions for headbands for infants: https://www.beingtheparent.com/hair-bands-and-baby/. 
Your payment information is processed securely. We do not store credit card details nor have access to your credit card information.
This website is encrypted. We take your security very seriously. All transactions powered by Shopify.
Rates are approximations. Exact rates will be provided at checkout.
Add some text to tell customers more about your product.
Adding product to your cart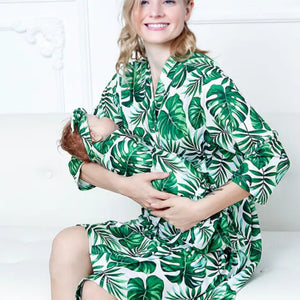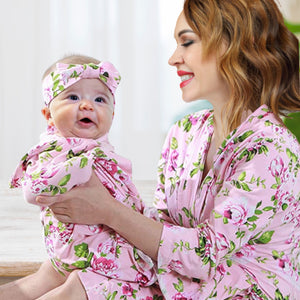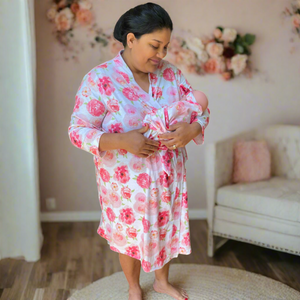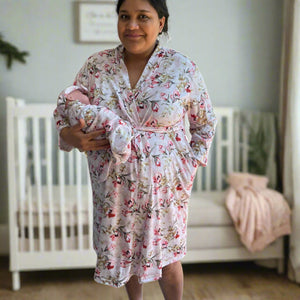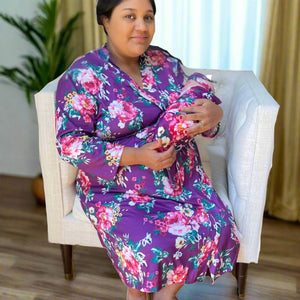 Recommended
You might want to take a closer look.